Hardwood Flooring Installation in Los Angeles
Professional Hardwood Floor Installers in Los Angeles and its neighboring cities.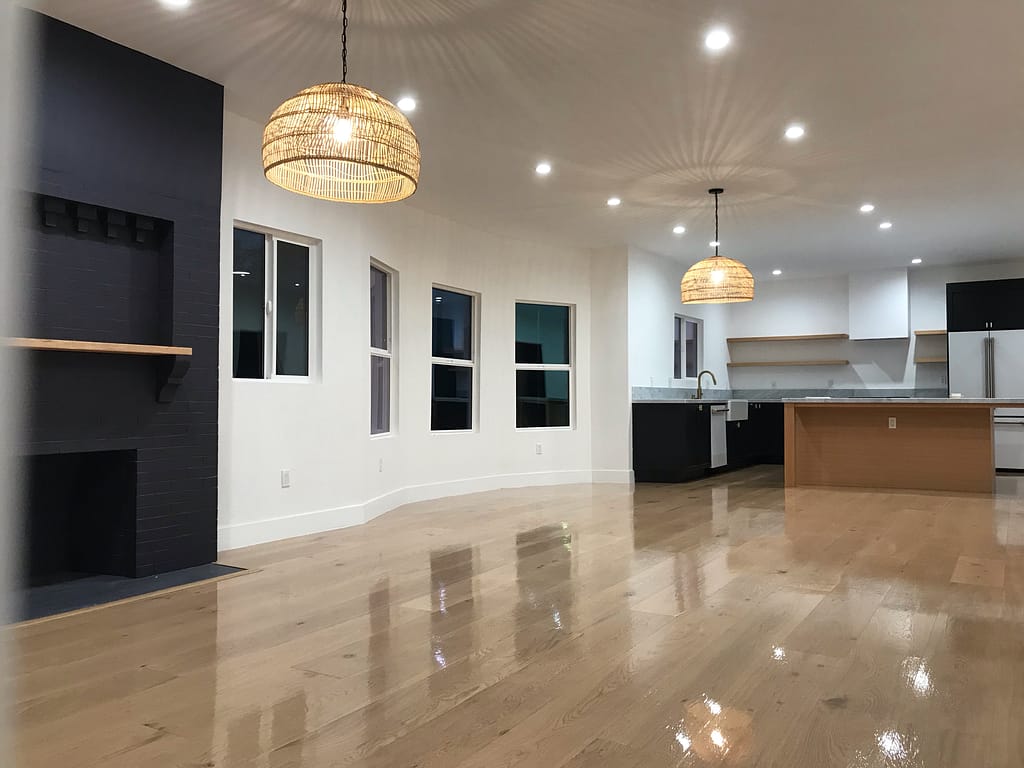 There are different types of hardwood flooring installation that a Los Angeles specialists could offer for engineered wood strips, solid wood strips, parquet flooring or other kinds of wood flooring.
Hardwood floor is investment that will last for a long time when installed properly and professionally. Being a natural flooring material, hardwood flooring installation requires that a wood flooring installer makes sure of a few things before installing the hardwood floors. Typically an experienced hardwood floor installer would assess the over all condition of the job site. From whether a sub-floor leveling is needed or in what direction should the wood flooring wi be installed they need to make sure they are keen to take care of the little stuff to address any problems before it even happens.
No matter what type of hardwood  flooring installation it is, moisture testing is imperative to ensure proper installation.
Hardwood Flooring Installation can be a painstaking process but we take pride in leaving your home looks as beautiful as we found it. Our expert hardwood floor installers have seen every situation and are proficient in the three different types of installation for Los Angeles hardwood flooring.
Nail Down/Staple Installation
In this method, wood floorings are installed by nailing it down or stapled into the sub-flooring (usually either plywood or plank wood). The hardwood floor is laid down randomly to give the floor a more natural look. This kind of installation is usually common for solid hardwood floors and a pneumatic nailer is typically used. 
When nail down installations are done correctly and professionally, the nails would not be visible. The hardwood floor installer would drive the nail down to the side of the wood flooring board or through the tongue and groove of the wood flooring in a 45 – degrees angle. This pushes the wood flooring plank against the next plank and secures it in place.
Glue Down Hardwood Flooring Installation
In this method, we glue down engineered wood strips or parquet directly to the subfloor. In these cases the subfloor is usually concrete, so we pay extra attention to moisture. With glue-down installations, it is important to consider any kind of allergies and sensitivities to smell. We use acrylic-based glue which is milder than some of the other options. Glue-down installations can be walked on the next day and furniture can also be moved in.
Floating Hardwood Flooring Installation
In this method, we glue together the tongue and groove of every plank and the floor floats over a foam cushioned padding. If the flooring has a locking system we can lock the pieces together without glue. This can be used with either laminate or engineered wood floor, but either way, the flooring is pre-finished. Not all engineered surfaces can be floated. Floating installation can also be placed over sub-flooring of questionable quality, unlike the other two modes.
Also, floating floors are a great option if you have multiple layers of flooring and do not want to remove them all. And floating installation The wear layer is important to consider as the thicker the layer the more times it can be refinished.
Generally, laminate flooring gives a hollow feeling underfoot with this mode of installation. Remember that floating floors expand and contract as a unit because the pieces of fused together. Allow for as much expansion area as possible.
Need to schedule a free on-site estimate?
Custom Hardwood Floors LA, is a licensed, bonded and insured hardwood floor installer and refinisher that offers Professional Hardwood Flooring Installation, Refinishing and Hardwood Floor repair and restoration  Services throughout Los Angeles.
We pride ourselves with the effort and commitment to deliver quality wood flooring services results to our customers' hardwood flooring projects each and every single time. 
Over the years we have established lasting relationships with our clients as they repeatedly reached out to us for all their hardwood flooring needs.
We team up with Designers, Architects, General Contractors and Builders.
Call now Toll free: 323-792-8336