Designs For New Hardwood Floor Installation
Most houses that have hardwood flooring installed would typically have a straight flooring installation where wood planks are laid side by side. But wood flooring can actually provide an array of design possibilities and still preserve the warmth, sophistication and elegance it naturally brings to any home. Provided that the installation is done by a knowledgeable, experienced and license hardwood flooring installer.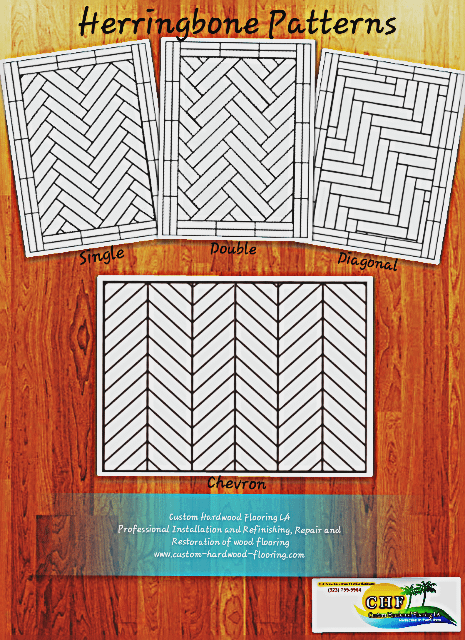 Installation Of Patterned Designs
Installation of patterned and design wood flooring requires custom milled or cut planks. Tongue and Groves (these are found at the sides of the planks and it's what connects or joins them together) must match. Milling specifications and the amount of wood needed will be determined by your hardwood flooring specialist base on the patterns you want.
One of the installation patterns popularly used is the Herringbone pattern. This way of installation can be identified in different types of Herringbone Pattern. You can choose from single, double, and diagonal. The type of design is distinguished by the way it is laid down for installation and varies in the degree of the angles the wood flooring is cut. Do take note that Herringbone is a different pattern from chevron as illustrated in the picture below.
There is a world of possibilities for design and creativity when it comes to installing hardwood floors. As wood flooring adds value to your home, having a designer floor will surely amp up things for you as a homeowner.
So for the next time, you would consider having your wood floor replaced, have new hardwood or bamboo flooring installed, consider the integration of design and creativity. This will showcase the beauty of the wood flooring and your sense of style as a person.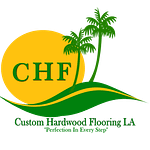 About Custom Hardwood Flooring LA
CHFLA is a family owned hardwood flooring business since 1994. We believe in providing professional hardwood flooring services with the best customer service that we can possibly provide. Licensed, bonded and insured; we have provided hardwood floor refinishing, all types of wood floor installation, custom, staining, sanding, repair and restoration for the Greater Los Angeles area and its neighboring communities.
Need to schedule a free on-site estimate?
Custom Hardwood Floors LA, a flooring contractor, offers Low Price Hardwood Floor Refinishing and Hardwood Floor Installation Services throughout Los Angeles, specializing in Refinishing, Installation, Repairs, Custom Floors, Exotic wood.
Call us today at: 323-799-9954