Hardwood Floor Refinishing in Los Angeles
Hardwood Floor Restoration, Refinishing
and Repairs
We have years of experience and focus on hardwood floors only, which makes us the experts.
Today when people look to buy an older home they want properties that have original hardwood floors. If you are trying to sell your home and it still has its original hardwood floors covered by carpet then you need to take the time to restore the floors. If you make sure the restoration is done by professionals, you can increase the sales price of your home and improve your chances of making a quick sale.
We offer professional hardwood floor services like restoration, refinishing, resurfacing, restaining, and repairs. Refinishing your hardwood floors is an opportunity to make additions, color changes, or long-overdue repairs.
While some hardwood flooring can be purchased pre-finished, the majority must be sanded and finished once the installation is completed. A newly installed hardwood floor that requires finishing allows more room for you to apply your personal preference, especially when it comes to the stain or type of finish that you would want to be used.
Finishing the hardwood floor requires some specialized skills and power tools. These primary pieces of floor finishing equipment include the drum sander for sanding hardwood floor, power edger used to sand the areas that the drum sander can not reach, like the edges of the room, and the floor polisher used for applying the finish and/or stain.
Nothing like having your hardwood floors go through sanding, staining and refinishing to bring back their beauty. Making sure that the process is done by a professional hardwood floor contractor, will save you from possible headaches and saves you time and money. 
We refinish and install hardwood floors in residential and commercial establishments since 1994. Hardwood Floor Services Los Angeles custom staining, sanding, and buffing, wood floor repair, and restoration.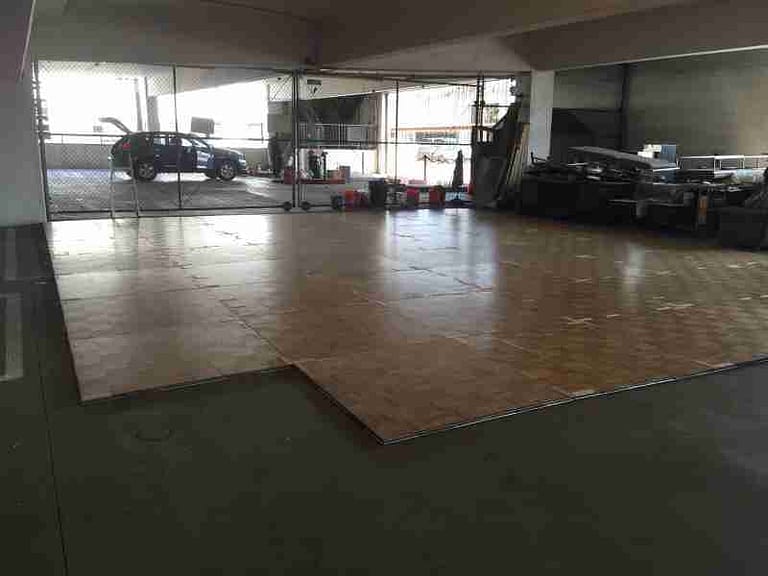 It is recommended to apply the finish to the hardwood floor on the last part of any construction project. In this way other work traffic of workers won't mar the finish. Wall coverings should be in place and painting completed except for a final coat on the base molding. Floors must be swept clean immediately before sanding.
When Finishing a hardwood floor, sanding should be done first. This process gives the floor a fine finish, removes imperfections, and preps the wood floor for the application of stain and/or polyurethane finish. A drum-type sander is used for heavy sanding operations. A floor polisher with a floor sanding abrasive disc is used. The experience and sanding technique of the hardwood flooring technician determine the quality of the outcome of the finish. If the wrong grit is used for the type of wood species you have, the finishing process could get affected.
A custom stain can be applied to the hardwood floor during the finishing process. This will allow you to determine what shade or color do prefer for your hardwood flooring. Different type of wood gives off certain characteristic when being stained and finished. For example, Cherry hardwood takes light reddish stain well, generally, no filler is needed for this type of wood and it imitates mahogany very well. On the other hand, Maple hardwood stains well in lighter colors take a fine finish and no fillers are needed. Make sure that your hardwood floor technician helps you figure out what stain will work best with the type of hardwood you have.
Finishing Hardwood Floors
There are properties and method of application that needs to be considered when finishing hardwood floors. Determine first the type of finish appropriate for the type of wood species you have. Most finishes are applied with a high-quality brush or lambswool applicator. A sealer is applied first. Some seals produce satisfactory results with one coat but most manufacturers recommend two coats or one coat plus a special top dressing. Surface finishes are then applied. 
There are different types of the polyurethane finish. The oil-modified polyurethanes and moisture-cured polyurethane. Make sure that the sealer and topcoat finish is used on your hardwood floor are compatible. Consult your Los Angeles hardwood floor contractor for further details.
Need to schedule a free on-site estimate?
Custom Hardwood Floors LA, a flooring contractor, offers Low Price Hardwood Floor Refinishing and Hardwood Floor Installation Services throughout Los Angeles, specializing in Refinishing, Installation, Repairs, Custom Floors, Exotic wood.
Call now Toll free: 323-799-9954