Custom Hardwood Flooring Los Angeles
Custom Hardwood Flooring Los Angeles is a professional Hardwood Flooring Contractor who provides all types of wood flooring services to Los Angeles and its neighboring community.
We offer all types of hardwood floor installation, wood floor refinishing, custom staining, repair, and restoration services.
Our commitment is to provide the best hardwood flooring services, whether for a small residential wood flooring project or a big commercial-grade hardwood flooring endeavor.
You can expect a thorough, educated, professional hardwood flooring evaluation and service. Honest and transparent quote on the cost for your wood flooring project – No hidden charges or aggressive and sly sales tactics. And sincere and caring customer service to answer all your hardwood floor concerns.
We are looking forward to working with you on your next hardwood flooring project!
Custom Hardwood Flooring had helped numerous homeowners, designers, contractors, store, schools and office owners achieve their hardwood flooring vision. Let us be apart of the your next wood flooring project.
We are a team of dedicated professionals that get the job done right.
Check Our Recent Wood Flooring Projects!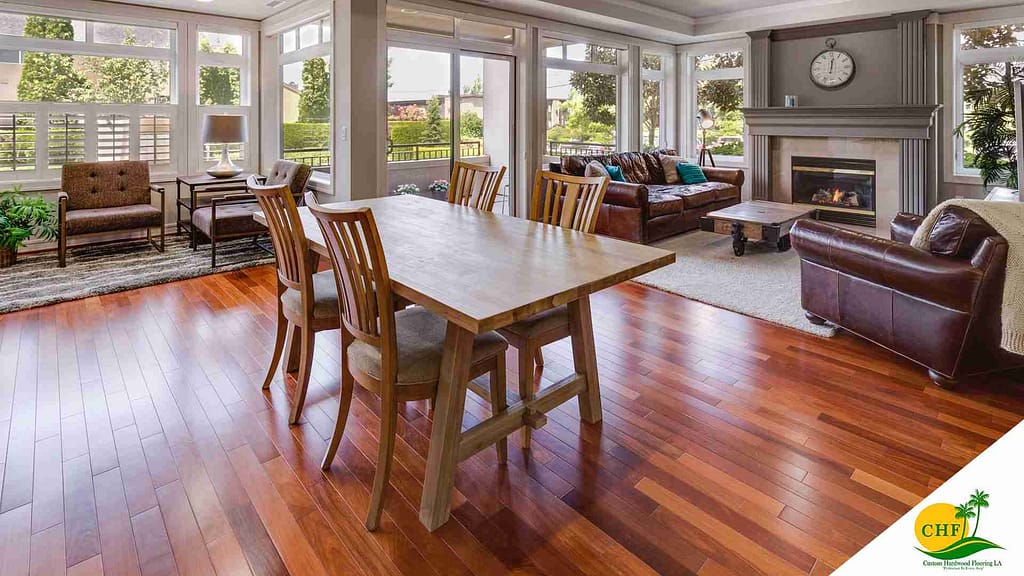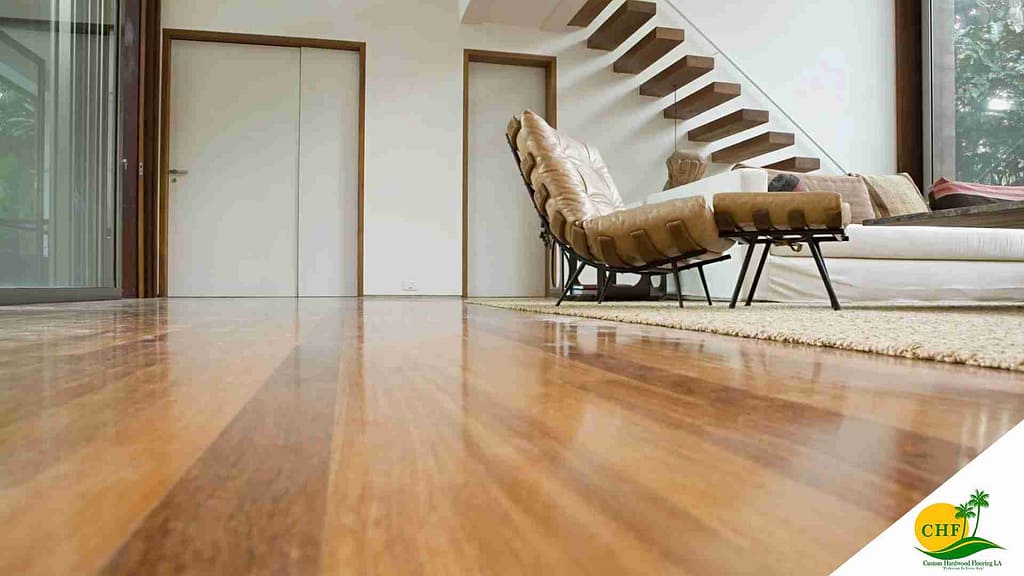 All About Hardwood Floors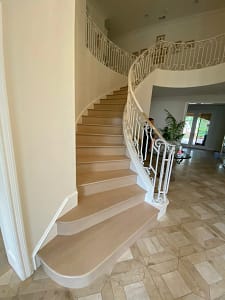 Top Hardwoods for LA Climate: An Expert Guide Los Angeles's unique Mediterranean climate, characterized by warm, dry summers and mild, wet winters, demands specific considerations
Read More »
How Many Times Can Hardwood Floors Be Sanded and Refinished?
One great feature of having hardwood flooring installed in your home is that this flooring material can be sanded or re-surfaced and refinished. This allows you to bring back to life the beauty of your wood flooring after normal wear and tear or damages that can happen over time..
But how can you determine whether your hardwood flooring can still be sanded or not? The answer lies in how much wear layer is left on your wood flooring. The thicker the wear layer, the better probability that the floor can still be re-surfaced.
Sanding hardwood floors is the process of taking out scratches, dents and other imperfections in the wood flooring using different levels of coarse sand papers and sanding machine. When done professionally, sanding hardwood floors usually takes away about 1 millimeter of your wood flooring surface. So depending on the thickness of the hardwood flooring wear layer, it can be sanded and refinished.
Sanding and refinishing solid hardwood floors is the most ideal. It can be sanded around six to seven times in the course of the wood flooring's lifetime. A good solid hardwood floor's wear layer usually starts at 6mm thick. Do take note that sanding the wood flooring's surface would smoothen and even out the top layer. Distressed hardwood floors usually requires hand sanding which is more labor intensive and time consuming therefore more costly compared to a regular sanding and refinishing work.

Sanding and refinishing engineered hardwood floors – The quality of engineered hardwood floors is usually determined by how thick the wear layer it has. Some engineered hardwood floors can be cheaper in price but have too thin of a wear layer. Having their best interest of our clients in mind, the minimum requirement for us to install an engineered flooring for a clients is at least 3mm. This is to make sure that they get their moneys worth because this will allow at least 3-4 times of sanding. 
Installing anything less than that will NOT allow the hardwood flooring to be sanded because the wear layer is too thin. If sanded patches of plywood / plank can get exposed and the wood flooring can break. 
Having hardwood floors are known to increase the value of your home. A simple sanding, staining and refinishing can cost effectively update, the look of your property and take care of any scratches, stain, dents or imperfection on the wood flooring. 
When done by a professional the process can be very fast and easy. Making sure that the flooring technicians are well experienced, licensed and have your best interest can and will save you from a lot of unnecessary problems. Typically, homeowners tend to overlook the importance of the thickness of the wear layer of the wood flooring.  They tend to get hardwood flooring installed base on how cheap they can get it.
Our experienced hardwood floor team provide highest standard of service and workmanship in hardwood floor installation and hardwood floor refinishing. We pay attention to details and strive for perfection in every aspect of the job. Your hardwood flooring project will be completed to your satisfaction in a timely manner.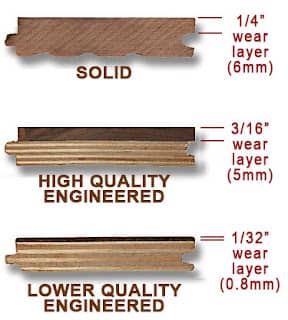 .bz-bdg{width: 230px;}.bz-bdg>a{display: block;font-family: Helvetica;font-size: 9px;font-weight: 500;text-align: center;margin-top: 4px; color: #484848;line-height: 10px;}.bz-bdg .small-label {margin-top:-12px;padding: 0 10px;}
Flooring Contractors in Los Angeles