Wood Floor Refinishing, Installation and Restoration
Wood Floor Refinishing and Restoration
Custom Wood Floor Staining - Dust Less Sanding - Floor Buffing / Screening - Refinishing
Schedule Your Free Estimate
How to We Fix Stain Damaged Hardwood Floors?
- Staining Hardwood Floors -
Hardwood floors being a natural porous material absorbs moisture, color and can be scratched and dented. Great thing about wood floors is that it can be sanded and refinished depending on how thick its wear layer.

Some stains caused by water damage from a plant or a pet urine can deeply penetrate into the wood and sanding it might not help. We either recommend custom staining it with a dark color or if the wood flooring around the damaged area is not too thin, then replacing it with new, matching hardwood floor and then refinish it or custom stain it to match. The later option would normally mean that we will need to sand the entire room to get a uniform finish.

We get questions like, can you just take care of the spot and not sand the whole room? Well, we can but we don't. "Spot treating" will result to a difference in color, shade, sheen level and over all look of the old floor from the newly refinished area. This will make the treated area stand out and will result to a not professional way of refinishing wood flooring. And that is not something a professional hardwood flooring refinisher / installer likes to do.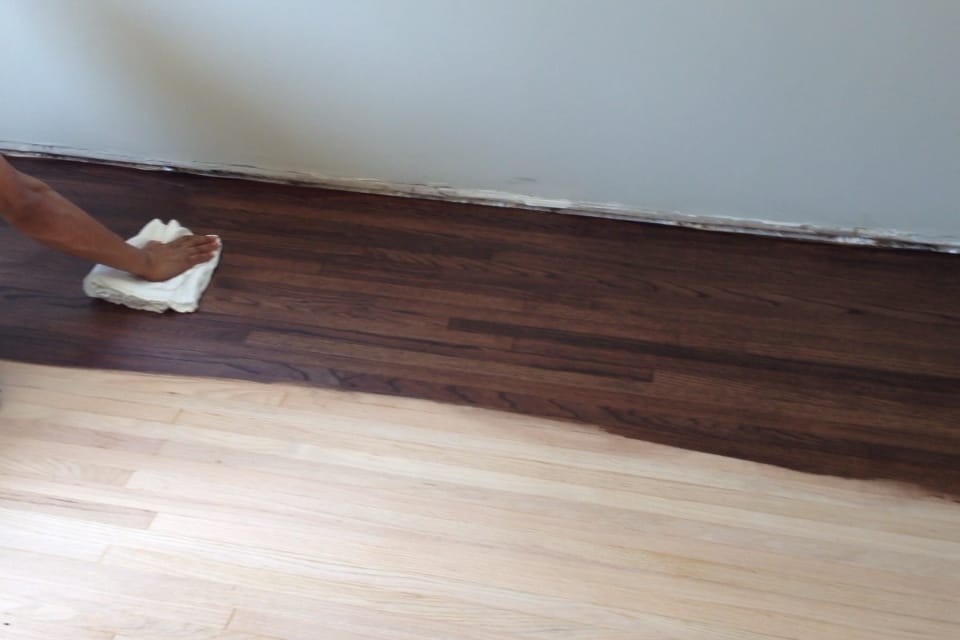 How do We Change the Color of Your Hardwood Floors?
-Wood Floor Refinishing-
Feeling creative and want to update the look of your home? If you have wood flooring most likely you able to do just that by simply having your floors sanded, custom stained and refinished.

We had clients who comes to us and say, Can you match the color of this door to be the same with the floor? But of course! Would it be an exact match? Depending on how discerning the eyes of the client most often we get feedback that it turns out as exactly the same.

So color your hardwood floor green, red, white or blue, or just maybe have it finished with a clear finish. Either way we work to give you that wood flooring by applying sample stain colors on the floor or on a sample board for your approval.