Staining Hardwood Floors Los Angeles
Los Angeles Hardwood Floor Staining
Customized Staining Your Wood Floors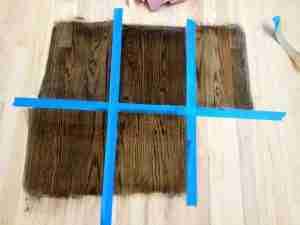 When you are in a dilemma where you want your wood floor stain color to be a "little reddish kinda brownish with a touch of light gold" and you could just not find the closes possible match of an existing wood floor you have, the best way to resolve this is to customized stain and refinish your hardwood floor. Discerning customers prefer something a little more unique than the off the rack, standard, wood floor retail store stain color selection. They require more customization than that what is usually shipped to them in a cardboard box.
A professional Los Angeles hardwood floor service provider should be knowledgeable on how to come up with the stain or color mixture that the clients require. It's a meticulous process and it requires expertise and keen attention to detail.
The process of custom staining your hardwood floors starts with a good understanding of what the client want. Stain mixtures will be made base on the details that are provided to the hardwood flooring service provider. He/She should be able to come up with the stain color while considering the unique way different wood species absorbs the stain or how the type of finish coat affects the shade or color that he/she is trying to achieve for the customer.
After the mixtures are done, a couple of samples can be applied to the floor so that the actual effect can be seen. This would then be shown to the customer for approval. Once the stain color is achieved and has been approved. The work process will now begin by first prepping up the wood floor. Repairs if there are any will be done. It will then be followed by professionally sanding the wood floor to remove all imperfections such as scratches, pet stains, or dents. Sanding the wood floor correctly is crucial in achieving a good end result.
After Sanding the wood floors, it must be ensured that the floors are vacuumed free of dust and dirt. Being able to do it thoroughly and thoughtfully will ensure a smooth and professional-looking finish at the end of the project.
After sanding, a coat of finish will then be applied evenly until desired shade is achieved. There are times that hand application of the stain onto the wood floor is required to achieve the best result.
Once the customer approves that the wood floor color is exactly what he/she wanted, coats of finishes will be applied. Normally, sealers and finish coats are applied at this point; Scheduling the applications after each coat dries.
Custom Staining and Refinishing
your hardwood floors will give results that will allow you to express your unique and creative self. It's a way to give your home an added feature that will increase its market value. 
We have worked with a number of interior designers, architects, and general contractors who needed someone that can execute their very wood flooring visions, in terms of achieving the wood color stain that will make their clients happy.  Homeowners can achieve that same couture look for their home wood flooring by consulting a hardwood floor contractor also. 
Every step of customizing your 
wood floor staining and refinishing
 must be done with professional know-how and a dedication to achieving quality work and service. This is the only way to make sure that you are getting your money's worth.
"Perfection in Every Step"
If you want to have a design such as borders or medallions on your hardwood floor, you don't need a costly inlay made of exotic hardwood. A hardwood floor can be painted in any design you would like. By choosing the right paint colors you can also make your design look like exotic wood.
Need to schedule a free on-site estimate?
Custom Hardwood Floors LA, a flooring contractor, offers Low Price Hardwood Floor Refinishing and Hardwood Floor Installation Services throughout Los Angeles, specializing in Refinishing, Installation, Repairs, Custom Floors, Exotic wood.
Call now Toll free: 323-799-9954