Parquet Flooring: Top 5 Parquet Flooring Installation Styles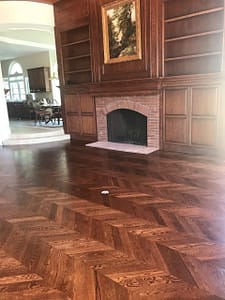 Parquet wood flooring is a highly creative and beautiful option that can elevate the look of any space. It consists of small pieces of wood arranged in intricate patterns, providing a unique and eye-catching design element for any room. Parquet flooring has been around for centuries and has been used in some of the world's most beautiful and historic buildings. Here are the top 5 parquet flooring installation styles you can choose from.
A herringbone pattern is one of the most popular types of parquet flooring installation styles. It is created by laying rectangular blocks of wood at a 45-degree angle to form a distinctive V-shaped pattern. The herringbone pattern has been a popular choice for centuries due to its ability to add elegance and sophistication to any space. This pattern could be made of various hardwoods, such as oak, walnut, or cherry, and can be finished in multiple stains or finishes to match the room's decor.
On the other hand, chevron patterns are similar to herringbone but with blocks of wood cut at an angle to form a V-shaped pattern. The chevron pattern is created by aligning the blocks at a 45-degree angle, giving the illusion of a continuous wood flow. Like herringbone flooring, chevron parquet flooring can also be made with different species of hardwood.
Versailles parquet flooring is highly decorative and ornate. Its name is a reference to France's, Palace of Versailles. This type of flooring consists of square or rectangular blocks of wood arranged in a sunburst pattern, providing a stunning focal point in any space. The Versailles pattern can be made from oak, the traditional choice, or other hardwoods and is often finished with high-gloss varnish to enhance its beauty.
Basketweave parquet flooring is another popular type that creates a basket-like pattern. It is created by interlocking rectangular blocks of wood to form a square, with different courts added to create a larger design. Basketweave can be made from oak, walnut, or other hardwoods and stained or finished to match the room's decor.
Brickwork parquet flooring is a unique type of parquet flooring that is designed to resemble a brick wall. It is created by laying rectangular wooden blocks in a pattern resembling a brick wall, adding a distinctive and creative design element to any space. Brickwork parquet flooring can be made from various hardwoods and finished to match the room's decor.
Parquet wood flooring installation is a beautiful and creative option that can add elegance and sophistication to any space. By using different installation techniques and various hardwoods, homeowners can create unique and beautiful parquet wood flooring designs that fit their interior design style. Whether it's the classic herringbone or chevron pattern or the more ornate Versailles, basketweave, or brickwork patterns, parquet wood flooring will surely add a stunning and timeless design element to any room.
Schedule a Free On Site Estimate
Sand, Stain and Refinish your Hardwood Floors Back To Life!