How To Care For Hardwood Floors
Hardwood floors are among the easiest to keep clean. Protect their warmth and character with simple, everyday cleaning techniques. It's important to know how to prevent damage to your solid hardwood floors.

Top Tips On Maintaining Your Hardwood Floor
These hardwood flooring guidelines apply to any wood floor. Following them will help your floor go longer between re-coating and re-sanding. Regular cleaning is the key to keeping your floor in top condition but there are a few things to bear in mind. Protect your investment by doing proper maintenance.
Dirt and grit:
 Dirt, grit, and sand are your hardwood floor's finish worst enemies. They act like sandpaper on the finish, causing scratches, dents, and dulling and finish wear. Place floor mats at entrances to trap dirt and prevent damage. 

Sweep and/or vacuum the floor as often as possible.
Water and other spills:
Standing water can warp a poorly finished hardwood floor and can damage the finish. Simply wipe up all spills as they happen.
Never, ever wet-mop a floor.
Wipe up all spills immediately. Products such as Kool-Aid will stain most finishes if left on the floor.
Hard cleaners:
Avoid oil soaps. They can build up and create problems when it's time to put a maintenance coat on the floor. Instead, neutral pH cleaners made specifically for wood floors are recommended.
Only use cleaners that are recommended by major wood floor finish or wood floor manufacturers.
Furniture:
Lift the furniture to move it — avoid dragging. Felt contacts under the legs will help prevent scratches.
Put floor protectors on the bottom of all furniture and anything else (baby ExerSaucers, toys, etc.) that might rub on the wood floor.
Dents:
Vacuum with a brush attachment — don't use vacuums with beater bars.
Keep pet nails trimmed. Know that dogs running through the house will scratch any finish.
Sun Exposure:
Direct sun can discolor your hardwood floor. Close curtains and blinds or add sheer drapes to protect from the sun's intense UV rays. Regular Care
Consider using runners/area rugs in high-traffic areas. Just be sure to lift the rugs out even now and then to air out the area. This way you may prevent sun spots or discolorations on your wood flooring due to the area being covered.
Sweep / Dust mop:
Brooms with fine, exploded ends trap dust and grit effectively. Use a well-padded mop and a hardwood flooring cleaner only
Use walk-off mats and area rugs at all doorways.
Vacuum:
Canister vacuums with special bare floor attachments are the surest way to get rid of all the dirt and dust.  
Humidity and Temperature
It is recommended that Los Angeles Area residents should maintain their homes humidity between 35% to 55% to maintain hardwood floors. Too high of a humidity can cause to increase the chance for moisture to build up, causing swelling or buckling of hardwood floors. While humidity that is too low can cause the wood to not have enough moisture in the air. It could result for the hardwood flooring to dry out too much and have cracks and gaps on wood floors.
How to Remove Stains on Hardwood Floors
1. Assess the condition of your floor. If your hardwood floor is new and is sealed well, the stain may be only on the surface and hasn't reached the wood. In this case, chemical removal should work. If your hardwood floors are older and the seal has worn off or down, you might need to strip and sand the floors for stain removal, and then refinish and seal them.
2. Determine the nature of the stain. Determining the best procedure to address the stain problem on your flooring can vary. If your current flooring is light in color and you want to keep it that way, the wood floors might need to be sanded and bleached to completely remove the stain and even then if the stain isn't removed, the option to custom stain the flooring with dark wood flooring stain color should be considered.
3.Eliminate the cause of stains on hardwood floors. Wipe off pet urine, liquids etc. as soon as possible and while it still is fresh. If the stain or discoloration is deep into the wood flooring, it will need to be sanded off and refinished with coats of polyurethane. Sanding and refinishing stubborn stains that have penetrated to through the hardwood flooring requires professional hardwood floor refinishers so to not further damaged your flooring.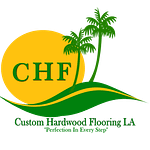 CHFLA is a family owned hardwood flooring business since 1994. We provide professional hardwood flooring services with the best customer service that we can possibly give to our customers. Licensed, bonded and insured; we offer wood flooring services such as hardwood floor refinishing, all types of wood floor installation, custom staining, sanding, repair and restoration for the Greater Los Angeles area and its neighboring communities.
Need to schedule a free on-site estimate?
Custom Hardwood Floors LA, flooring contractor that offers competitively priced Hardwood Floor Refinishing and Hardwood Floor Installation Services throughout Los Angeles, specializing in Refinishing, Installation, Repairs, Custom Floors, Exotic wood.
Call us today at: 323-799-9954