Top 10 Hardwood Flooring Trends
As homeowners search for new hardwood flooring, it's clear what is uppermost in their minds: Authenticity. An appealing look or style is not enough. While consumers are certainly concerned about a floor's durability and value, they want something of substance even more. They choose hardwood because it reveals much about their taste, values, and what is important to them. They want something authentic. All that from flooring? Yes.
The Best Flooring and Hottest Styles for Every Room, Including Kitchens
These Top 10 hardwood flooring trends are not driven by mere fashion or some longing to keep up with the next-door neighbors. Instead, this Top 10 reflects the desire of homeowners to bring the art of nature into their homes so they can enjoy the authentic natural beauty.
1. Authenticity
This is the Big Kahuna of flooring trends today—and for good reason. In this era of smarter and smarter phones, reality TV "stars," and constant change, where do we find equilibrium and calm? Many of us look to nature and the appeal of slower times.
Authenticity is behind a desire for floors that take inspiration from the past, charms us, or help us live lives more attuned to nature. It leads to these choices in flooring showrooms:
• Wide-plank, handscraped, distressed floors. These replicate historical flooring, going back to early America.
• Exotics. These are unusual tree species from all over the world.
• Bamboo and cork. Though not hardwoods, these are also products of nature. No trees need to cut down to produce these sustainable products.
Each tells a story about you and your values. Your most cherished value is history, rare beauty, or the environment.
2. Handscrape Hardwood Flooring
Through the 1800s, finish surfaces for hardwood floors were commonly worked by hand with draw knives. These were simple flat blades attached to two handles. By pulling toward him or herself, the crafter could scrape thin layers of wood off a piece of lumber, slowly smoothing the top surface. Inevitable, scraping marks were left behind, proving for generations to come that a piece of wood had been worked by hand.
Handscrape marks are commonly seen in flooring reclaimed from old structures. These signs from another time tell a story about the craftsmanship that is now replicated by today's flooring manufacturers who have planks handscraped in a similar manner to get the look and feel of salvaged historical lumber.
These beauty marks authentically reproduce a genuine look from the past. Today's handscraped floors are also distinctive to walk on barefoot. With each step, homeowners will feel slight variations in the surface—their feet feeling the evidence of a crafter's skills.
3. Wide-Width Wood Planks
The next time you are walking through a building from the 1800s, look at how wide the floor planks are. Instead of the 2-inch to 3-inch widths common today, earlier floors were 5 to 8 inches wide—and more—depending on the species of wood.
The reason is easy to understand. Trees were much more mature when cut in earlier times, which meant they were also thicker. Most of the old-growth trees are gone or protected from harvest now. So trees for flooring are thinner and wide planks rarer.
However, 4- to 5-inch planks offer more authentic beauty than thinner slices. So manufacturers are finding ways to offer this wider lumber. These create a look that is more leisurely and languid. This is a hat-tip to less-hurried time.
4. Distressed Wood Flooring
Those who lived through the distressed-wood trend of the 1970s can relax. Today's distress doesn't go overboard; it merely replicates the look seen from use and age of authentic, reclaimed flooring.
This second coming of distressed wood actually has its roots in the early 1990s when reclaiming flooring from old warehouses and commercial buildings emerged as a hot niche market. Those structures, built in the 1800s and early 1900s, offered a wealth of old-growth lumber, marked by decades of rough use. The gouges, nail holes, stains, slices, and saw marks were scars of authenticity.
By their interest in authentic distinguishing features that had pounded earlier flooring, homeowners today are showing their admiration for an era when skill rather than electronic technology was king.
5. Exotic Hardwood Floors
Exotic hardwoods appeal to a different sense of authenticity. What wins the heart here is the art of nature. How is it that trees can offer such elegance in form and still function so well as flooring? What a marvel.
There is the bold striping of tigerwood, the depth of Brazilian cherry, the rich beauty of teak. There are looks for every taste.
In addition to these authentic woods, manufacturers are also inventing ways to cut, bake and dye woods to mimic many of the exotics. This allows homeowners to obtain the look they want without endangering wood species in this country or abroad.
6. Harder Finishes
Admiring a new hardwood floor, you gaze at its natural beauty, alluring color, intricate graining and depth of shine. It's so good to walk on wood—except you are not really walking on wood. The work surface that you tread is actually a clear finish that's been formulated for toughness, sprayed on wood and baked to a hard-as-nails finish.
State-of-the-art factory finishes clear urethane finishes are salted with aluminum oxide—microscopic metal crystals—to increase durability. Several coats are sprayed on and dried under ultraviolet lighting. The finish is about 10 times harder than is possible with a site-finished floor. With prefinished, you'll also avoid the odorous off-gassing, labor and the time required for finishing a floor in place.
The moment after prefinished flooring is installed, it can be walked on. Instant gratification.
7. Engineered Wood Floors
Conventional wisdom promotes solid wood flooring because it can be sanded and refinished repeatedly. Sounds impressive, but when was the last time you sanded and refinished a floor? Safe bet that the answer is, "Never, with no plans to start."
Unless you plan on living in the same house for 10 to 15 years or more, engineered wood is usually a better answer. Engineered floors are constructed of 3 or more thin sheets or "plies" of wood cross laminated together to form a single stable plank. Each plank is made like a sandwich, with stable, low-cost woods providing the foundation and the prettiest, more costly showpiece woods as the top surface.
Most engineered flooring comes prefinished and goes down with relative ease. Fix it in place with nails, staples or glue. It can even be installed as a "floating" floor, a very quick way to put a floor in place. Regardless of the method for holding it down, these floors offer the beauty of solid wood without the price. They are more likely to be replaced than refinished (though many can be sanded and re-coated)—emphasizing their use as a design element in your house rather than a feature you may feel you have to endure. Plus, because they are dimensionally stable, engineered wood, unlike solid wood, can be installed below grade.
8. Sustainability: Cork, Bamboo and Others
Concern for the environment shapes the way we live, the laws we follow, and what we value. Hardwood flooring is a big part of this discussion for homeowners who want to play a part in preserving the world's natural beauty.
The days of clear-cutting forests to produce lumber are fading as manufacturers turn to managed forests, tree farms, engineered flooring and different woods for the supply of raw material. If you want a hardwood exotic, you may wind up with a sustainable domestic species—probably oak—that has been finished to mimic the look of an exotic. Or you might choose bamboo or cork, which offer performance similar to hardwood, but without the need to cut down even a farmed tree. Instead, bamboo is a grass that regrows after it is cut. Cork is made from tree bark, which regenerates.
Concern for forests and the environment are making an impact on how wood flooring is produced. Governments, environmental groups and industry leaders are adopting certification programs and tracking systems to validate the sustainability of wood supplies.
9. Color
Hardwood flooring doesn't have to be a sea of brown. Widely available finish colors include an amazing array of whites, browns, blacks, grays, and reds. Not enough? Purchase unfinished flooring and stain it with in any of a rainbow of colors.
Color choices allow floors to better serve interior style as a full partner. Why should colors be limited to walls? Colorful flooring, in turn, allows for rooms that authentically express the desires, style sense, personality and idiosyncrasies of the homeowner or designer. This trend can be summed up as "I want it the way I want it." You can certainly have it.
10. Value
To some manufacturers, retailers, and even customers, value means getting flooring at the lowest price possible. But that misses the mark. You may save a few dollars on the purchase, but that will prove foolish savings if you are constantly spending on maintenance, repair and replacement over time.
Value is getting the highest quality product at the best price. To do that, look for manufacturers who are committed to product performance. Look for brand names from companies who aggressively improve their product and back their products with warranties. The real value comes at a cost—but so does buy strictly on price.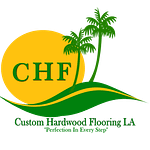 About Custom Hardwood Flooring LA
CHFLA is a family owned hardwood flooring business since 1994. We believe in providing professional hardwood flooring services with the best customer service that we can possibly provide. Licensed, bonded and insured; we have provided hardwood floor refinishing, all types of wood floor installation, custom, staining, sanding, repair and restoration for the Greater Los Angeles area and its neighboring communities.
Need to schedule a free on-site estimate?
Custom Hardwood Floors LA, a flooring contractor, offers Low Price Hardwood Floor Refinishing and Hardwood Floor Installation Services throughout Los Angeles, specializing in Refinishing, Installation, Repairs, Custom Floors, Exotic wood.
Call us today at: 323-799-9954
Check Out Our Recent Blogs