How To Buy Hardwood Flooring For Installation
Before you go shopping for your hardwood flooring materials there are varieties of materials and styles for hardwood flooring. You will need to shop around to find the perfect one for your house. Los Angeles hardwood floor professionals go through this process to ensure quality outcomes. It is very important that you make sure that your hardwood flooring contractor is experienced, knowledgeable, and has genuine care about your hardwood flooring needs. In this way, you protect yourself from headaches and stress if the installation of hardwood floors is not done right.  
Buying Hardwood Floors in Los Angeles
Determine the areas of the house where you want wood flooring installed and measure it to determine the square footage of the floor.
Determine whether a plywood subfloor is already in place (such as in an area where carpeting has been removed). If you're remodeling, you may find that a 5/16-inch or 3/8-inch engineered flooring product will fit, while standard 3/4-inch-thick flooring would require you to change or trim the doors in the room. In other instances, you may want the structural stability of a 3/4-inch product.
Consider whether you want an unfinished or pre-finished wood flooring product. Pre-finished flooring has the polyurethane coating already applied, so once it is installed the project is complete. Unfinished flooring requires sanding and coating after installation.
Consider the stain color if you are buying a pre-finished product. Unfinished floors are stained after installation, but a pre-finished product comes already stained.
Decide if you will hire an installer or if you will be installing the flooring yourself. Flooring comes in varieties that can be nailed, glued, or even affixed with pre-attached strips of adhesive tape. A pre-finished glue-down product is easier for a novice to install than standard unfinished nail-down flooring.
Consult your installer before ordering the material. Flooring involves a waste factor that varies with room geometry and the type of product. Expect approximately 15 to 25 percent waste. Make sure that you and the installer agree upon the amount of material needed for the job.
Shop at several home centers or suppliers to check out the various products and compare prices. Normally, you get a better deal having your licensed hardwood flooring contractor get the flooring materials for you. Especially when you already know exactly the kind of hardwood flooring you prefer. Hardwood flooring contractors usually are able to get the hardwood floor materials in a special price this way you will be able to save more and worry less.
Order the material that you have listed from your chosen supplier. Don't forget to order other materials that you will need like nails and glue.
Put your professional hardwood floor installer to work.
Be in constant open communication with your wood floor installer about your preferences and concern.
Once the hardwood floor is installed, enjoy the lasting beauty of your investment.
For your hardwood flooring needs make sure that you hire a professional hardwood floor contractor or installer. This gives you the assurance that you're getting your time and money's worth.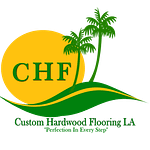 About Custom Hardwood Flooring LA
CHFLA is a family owned hardwood flooring business since 1994. We believe in providing professional hardwood flooring services with the best customer service that we can possibly provide. Licensed, bonded and insured; we have provided hardwood floor refinishing, all types of wood floor installation, custom, staining, sanding, repair and restoration for the Greater Los Angeles area and its neighboring communities.
Need to schedule a free on-site estimate?
Custom Hardwood Floors LA, a flooring contractor, offers Low Price Hardwood Floor Refinishing and Hardwood Floor Installation Services throughout Los Angeles, specializing in Refinishing, Installation, Repairs, Custom Floors, Exotic wood.
Call us today at: 323-799-9954